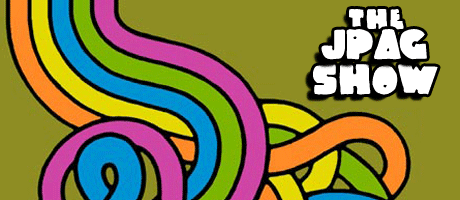 The show returns to quality, at least from an audio perspective. Hosts James Gillard, Wesley Johnson, Russ Walsh, Clayton Ashley, and Randall Smith gibber and jabber about jelly, G-Unit, and games of all sorts, and do so in the context of new theme music to boot.
In this episode:
Russ lives in boring, periodically-invaded-by-Mongols Eastern Washington. Clayton working at the paper, and we are all looking forward to the
Watchmen
movie. James bangs around on his desktop through the episode. James working on a curriculum integrating use of Rock Band and/or Guitar Hero in his school. James puts Randall down for uttering the trademark sounds and sound effects from Little Britain. "Help the Police" from Rush Hour pimped. James's karaoke success. Clayton not following
Battlestar Galactica
, like a chump. Clayton over the moon on Noby Noby Boy, and still enthused about Homeworld. Wesley playing Fiddy's BoTS. Ben Gilbert's life in danger. The latest gems from the New Cypress News. Murderous book recommendations. Hatred for Edison and love for Tesla, in some detail. Great Sci-Fi movies never made, and the book that tells all.
Crank
recommended. The premise for the sequel to
Crank
questioned. The progress of the Chicago JPAG Meetup. The disappointing absence of Wes at the Chicago JPAG Meetup. Inappropriate photos on the JPAG. The amusing other Joystiq fan group and Russ's infiltration thereof. Threads in the JPAG, from "Who'da Thunk It?" to "Redemption in Games."
Music:
Intro and outro music excerpted from songs by
The Long Winters
, courtesy of
Barsuk Records
. Intro from "Shapes"; outro from "Scared Straight." You can find both songs on their CD
When I Pretend to Fall
. Thanks to both John Roderick of TLW and Emily Alford at Barsuk. This week's art an homage to Shawn Wolfe's art design for the
WIPtF
album.